Rou, formerly Tomokui Kanata, was a human with an esper ability. One day, he was killed by Kirimine Aoi, a childhood friend who became his stalker. Later, he wakes up only to find himself reincarnated as a Goblin, a Monster Species considered to be of the lowest class. His memories as a Human and his original esper ability, Absorption, remained in him. Having a second chance at life, Rou is determined to live it to the fullest.
Personality
Rou is very intelligent, having an extraordinary amount of knowledge that he retains from his previous life. He is very cunning, using Goblins as sacrificial pawns and later as underlings. The first Goblin used this way is Gobukichi, who later becomes his right hand man. Despite this, he has a kind attitude towards his Goblin underlings, helping them learn to hunt, training them, and even encouraging them with gifts when they achieve something good.
He adapts easily to every situation and condition, which can be seen from his strategies to hunt and his ability to solve every problem. He also greatly hates doing something without "righteousness", unless it is important and required to survive. An example is when he is angry and uncomfortable when he sees the female Humans that were kidnapped in the cave, and repeatedly violated in order to produce more Goblin babies.
He doesn't like going into detailed explanations, he likes his food and booze.  He's blunt and likes solving problems the easy way. At the same time, he's very intelligent (not that obvious with his speech/thought process) and actually pretty reasonable. It is shown he actually cares about those around him. It's like the concept that even if it's a tool, it should be maintained and well treated. He has a very deeply seated consistent Buddhist's version of compassion (it's closer to lay practice than the monastery version), as in, he doesn't really kill for the sake for killing, there's a purpose behind it (one aspect with the Buddha of mercy is the complete annihilation of your opponent, ie. cut him down and stomp on his skull, there's still a mural of it in Tibet.  Killing for sustenance is actually well tolerated).
Appearance
Goblin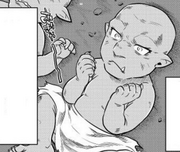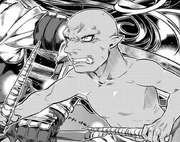 As a Goblin, Rou has the size of an elementary school kid with a bald head and green skin. He looks like an average typical Goblin, except for a canine protruding out from his mouth, and having a pointed eyelids. 
Hobgoblin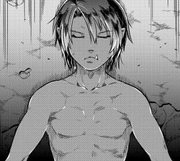 When he ranked up to Hobgoblin, he became closer in appearance to a human. He looks like his old self in his teenage years, having hair growing on his head. His skin became black because he is a Rare Variant kind of Hobgoblin that was blessed by one of the oldest Gods, the Great God of Origin and Demise. 
Ogre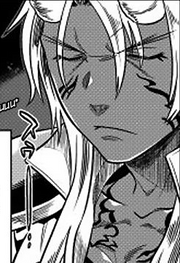 As an Ogre, Rou's body remained black, he had unfamiliar red lines all over his body which resembled tattoos. His height was a full human arm length taller than that of an adult male (i.e. 2 meters and 50 centimeters) and he has developed 6-pack abs. His hair reached below his shoulder blades. Aside from growing longer, it has also turned gray. Lastly, two sharp horns had grown out from his forehead. When he touched them, they felt extremely hard. His genitalia has also greatly increased in size.
Apostle Lord
When he became an Apostle Lord, Rou was around 50 centimeters shorter than when he was an Ogre (i.e. approxtimately 2 meters) but his muscles were many times denser making him at least a dozen times stronger. His black skin is the same, but the red tattoos on his body changed to a golden color. He has 3 horns that are stronger and sharper than before. His eyes turned blood red, same color as Dhammi's, and can read from a book from nearly fifteen meters away. His hair had grown down to his waist and is silvery gray, which Spinel Fean had tied into a ponytail with golden thread. He also has 5 "Ogre Orb's" buried in his chest, elbows and both knees. the color was a mixture of black, red and gold.
Vajrayaksa Overlord
A bit taller than the Apostle Lord and instead of three horns he now have five which are also thicker. They have sharp edges and are slightly curved, extending as if they were trying to pierce the sky. It looks almost like a crown. His hair color became silver white and remained at the same length. Also his eyes color turned gold. Have another set of arms (now have four) the two new arms are located near the shoulder, just below the armpit. There are orbs in the center of his chest, in his four elbows and four hands, both knees, in his navel, and in both sides of his shoulders.
Rank Up (存在進化) (ランクアップ)
Gallery
Please Note this Page is a work in progress and will continue to be adjusted as the light novel is translated.
The abilities can be classified into 3 types
Obtained by clearing conditions of the world
Acquired by Absorption ability of Rou
Acquired by Synthesis ability of Rou
This page has an account of Rou's abilities acquired up till day 260 organized by when and how obtained and by type with description.
 Till day 260 number of abilities are -
 433   Abilities acquired by Absorption.
 53    Abilities acquired by Synthesis. 
 150   Abilities made obsolete by Synthesis

List of Abilities (Organized by Day Obtained)
(Expand to read)
Inherent (from birth)
Day 1-10
Day 11-20
Day 21-30
Day 31-40
Day 41-50
Day 51-60
Day 61-70
Day 71-80
Day 81-90
Day 91-100
Day 101-110
Day 111-120
Day 121-130
Day 131-140
Day 141-150
Day 151-160
Day 161-170
Day 171-180
Day 181-190
Day 191-200
Day 201-210
Day 211-230
Day 231-240
Day 241-250
Day 251-260
Day 261-270
Day 271-280
Day 281-290
Day 291-300
Day 301-310
Day 311-320
Day 321-330
Day 331-340
Day 341-350
Day 351-360
Day 361-370
List of Abilities (Organized by Type)
Due to his Absorption ability, Rou can gain abilities from objects and creatures by eating them. Since he can't have 2 of the same skill his Original skill becomes upgraded/stronger when he eats the same thing multiple times.
Later on when he Ranks up to Overlord, he gains the skill [World Enemy - Insatiable Gluttony] which is similar (though not completely identical) to his Absorption ability. Thus giving him two abilities capable of granting him benefits from eating.
Some abilities have been made obsolete due to Rou's Synthesis ability creating better versions of the abilities. Despite that, those original abilities are still listed here for both the sake of completeness and that the author has said synthesized abilities stay on Rou's list, but won't get used again on their own in the story in the future.
Permanent Abilities:
Optional Abilities:
Instant Death
Intimidation
Physical Attack
Attack Support
Physical Defense
Physical Support
Movement
Sensing / Sight
Healing
Support / Misc
Lineage
Leadership
Elemental Spirit Magic
Summoning / Creature Generating Magic
Magic Support
Absorb
Resistance and Reduction
Weaknesses
Languages:
Jobs:
Blessings:
Magic:
Origin magic - rather than granting spells, instead grants the ability to easily learn any magic system and improves memory.
Demise Magic:
"Spear of the End" - a destructive 1st Level End spell in the shape of a spear that can be thrown or launched from a ballista.
"Destroy all with Darkness" - a 3rd level End spell which summons three pyramid-shaped shields that can destroy even 5th level Dragon of White Flame spell when combined with "Shock Back".
"Shock Back" - a magic composed of Wind and Water Spirit Magic manipulated by Hydro-Hand and Aero Master that creates a water membrane barrier with an air vacuum within, which Rou uses to cover his body.
Fire Magic
Druid healing magic
Enchanter magic
Abilities Gallery
List of Equipment

Nagi: a halberd he got from the Orc Leader. After his fight against the Red Bear it was broken. After Blacksmith-san repaired it, it became a magic halberd:
The axe head is the feature of the halberd, it is made of an alloy produced by combining water spirit stone, wrought iron and mithril. Because a water spirit stone is mixed, water gushes out when it is shaken.
The spearhead was made out of an alloy of spirit stone, wrought iron, and mithril just like the axe head. The spirit stone that was used was a lightning spirit stone that gives off lightning. When thrust at high speed, it can fire a bolt of lightning from the tip, hitting distant enemies with an electric attack.
The pick on the opposite side from the axe head was likewise made from a similar alloy, the spirit stone used was fire spirit stone. Fire came roaring out from the place where the pick pierced.
The butt end on the other side from the blade part was a tetrahedral polished earth spirit stone, stabbing the enemy with it becomes easier

Starving Impaler of A Thousand Thorns (Kazıklı Bey)
Fury of the Haughty King (Beowulf)
Sunlight's Soul Sword, Hisperiol
Quivering Water's Soul Sword, Neiletis
Giant's Long-Lasting Carving Knife
Demon's Smithing Hammer
Equipment Gallery
Demon Generals
Mistresses
Children
Others
Pets
Ad blocker interference detected!
Wikia is a free-to-use site that makes money from advertising. We have a modified experience for viewers using ad blockers

Wikia is not accessible if you've made further modifications. Remove the custom ad blocker rule(s) and the page will load as expected.